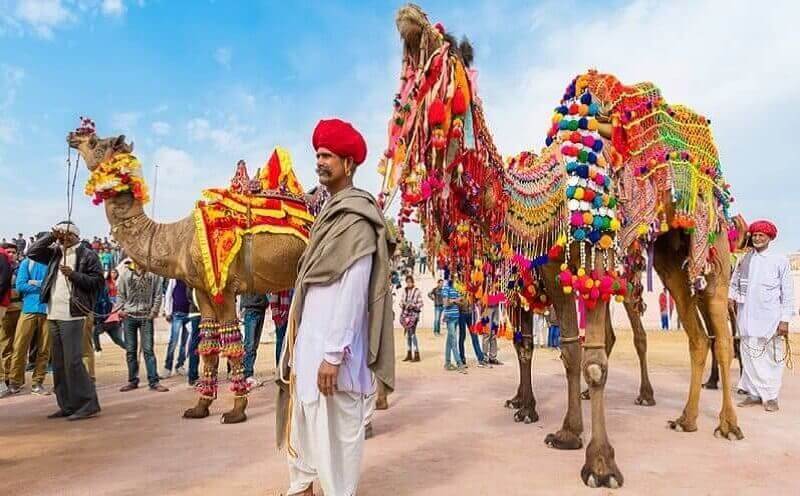 Rajasthan Holiday Packages
Rajasthan Holiday Packages, If you're searching for memorable Rajasthan Tour Packages, We've got the best Rajasthan family tour package & Rajasthan Tour Packages for a couple, Which Are Certified Rajasthan Tourism Packages. Kashmir Travelling Voyage offers the widest range of customizable Rajasthan Tour Plans, the Cheapest Rajasthan Holiday Packages, & Must Visit Places In Rajasthan, Book Rajasthan Tour Packages, to suit all types of travelers.
Rajasthan Holiday Trip
2 Pax 👫
Duration 6 Nights 7 Days
₹96,999 INR
Day 1: JAIPUR

Day 1: JAIPUR

On arrival at the Jaipur airport or railway station, meet our representative transfer to the hotel. Check into your hotel. In the afternoon, visit City Palace Museum, Hawa Mahal, Jantar Mantar, and the Pink City area Overnight stay at a hotel in Jaipur.
Day 2: AMBER FORT

Day 2: AMBER FORT

After breakfast visits the Beautiful Amber Fort. In the afternoon, come back to the hotel. In the evening visit the local markets. Overnight stay at a hotel in Jaipur.
Day 3: JAIPUR – JODHPUR

Day 3: JAIPUR – JODHPUR

Today after breakfast, drive to Jodhpur. On arrival in Jodhpur, check into your hotel. Enjoy an evening at leisure. Overnight stay at hotel in Jodhpur.
Day 04: JODHPUR – CITY TOUR

Day 04: JODHPUR – CITY TOUR

After breakfast, proceed for the city sightseeing tour. Visit the Mehrangarh fort, Jaswant Thada, and explore the local market with this Rajasthan package itinerary. Overnight stay at hotel in Jodhpur.
Day 05: JODHPUR – UDAIPUR

Day 05: JODHPUR – UDAIPUR

After Breakfast Today, drive to Udaipur. En-route, visit Jain Temples at Ranakpur. On arrival, check into your hotel. Overnight stay at a hotel in Udaipur.
Day 06: UDAIPUR _ CITY TOUR

Day 06: UDAIPUR _ CITY TOUR

Today After Breakfast, proceed for the sightseeing tour of Udaipur city. The city tour includes a visit to City Palace, Sahelion Ki Baari, and the Dolls Museum. Overnight stay at a hotel in Udaipur.
Day 07: UDAIPUR AIRPORT – RAILWAY STATION

Day 07: UDAIPUR AIRPORT – RAILWAY STATION

Today is the last day of your RAJASTHAN Holiday tour package. After breakfast transfer to the Udaipur Airport /Railway StationAirport for your Onward Journey.
Inclusions

Accomodations

√ Hotels in Rajasthan. All Stays Include MAP Basis Dinner and Breakfast Included In the Tour.

√ Transportation with Toll Tax Paid.

From Airport Pickup We Will Give You Cab Services From Rajasthan Airport / Railway Station Driver Along With Our Representative Will Be Waiting For You With a Name Banner.

√ Meals.

Dinner and; Breakfast Available Veg/Non-Veg.
Exclusions

Lunch Train Tickets Flight Tickets Tickets to Attractions or Shows.
About Rajasthan Tour
WINDSWEPT DESERTS AND EXOTIC PALACES
1. Udaipur 2. Jaipur 3. Jodhpur 4. Jaisalmer
THE PICTURESQUE TOWN of Udaipur (pop. 230,000) is a fertile oasis in the scratchy deserts of Rajasthan. Three large artificial lakes built centuries ago for irrigation still form the heart of the city, which is enclosed on all sides by mountains.
1. Udaipur
Udaipur is a colorful place, with beautiful murals on the whitewashed walls of many of its homes -it's a local custom to paint a horse and an elephant on each side of the gateway when a marriage takes place. The women here prefer the royal colors of orange and red for their saris. The city, originally the capital of the State of Mewar, was founded in the 16th century by Udai Singh, its first maharana-a "prince among princes title bestowed only upon this Rajput Royal Family for valorous deeds and its longer than-other-Rajputs resistance to the Muslim rulers in Delhi. I ney ave into the Muslims in 1614, but the city remained, until Indian Independence, under the rule of this same royal family, who built many gorgeous palaces over the years
2. Jaipur
Rajasthan often gets in the news in India because of its poverty, aggravated by the occasional droughts that come as a reminder of hoW much of the state is desert.
comparative poverty aggravated by the occasional droughts that chow much that comes as an unwelcome reminder of how much of the state is desert. But in some ways, it's also one of the most attractive states, with came the stone for Agra's Taj Mahal); the forests of Sawai Madhopur filled with wild animals that otherwise rarely seen the beast of burden, the aloof camel; and the artificial lakes that have made lovely cities bloom
Not to mention the people: Women in swirling bright skirts covered from head to toe in bangles, balancing braSs jugs on their homes men with rose-red and pink turbans like until-blown roses in a desert (t takes ten yards of silk to the wind that headgear amateurs need not even try Alas, these colorful outfits are rarely seen in Jaipur anymore. Still, they are trying to preserve some of the traditional atmospheres of this city by painting all of the buildings in the old part of town their original pink shade and printing all signs in the local language. Jaipur (pop. 1,005,000), the most renowned of Rajasthan's cities, is often referred to as rose-pink because of the delicate flamingo color with which so many of the most arresting buildings were painted,
Mirza Ismail Road separates the new city from the old, but to the visitor's surprise, once through the ancient Sanganer Gate, he finds the
centuries-old Johri Bazar as wide a street as in any modern city in the world. Truly it is an example of foresighted planning: by Sawai Jai Singh 1699-1743), who founded the city in 1727 and determined that it should be the best-planned metropolis of its time. The streets, 110 feet wide (to accommodate old-time elephant processions), were laid out to intersect at right angles in the now-familiar grid system; eight gateways were built in the surrounding city wall, 20 feet high and eight feet thick. Jai Singh, who was only 13 when he became ruler, was dubbed "Sawaf (prodigy) by the Mughal emperor Aurangzeb ruling in Delhi at the time, and the title is still borne today by the princely house of Jaipur. Jai Singh, not content with city planning, went on to become one of the world's major astronomers, building observatories not only in Jaipur but also in Delhi and other cities.
3. Jodhpur
To many Westerners, Jodhpur 1s is the name of tight-fitting riding trousers flared at the hips. It's been the main city of the Great India Desert since medieval days. The focal point here, the Mehrangarh Fort, is so fantastic that you think if you blink it will vanish. From the local men's attire came the name of the breeches. More than in Udaipur or Jaipur, and despite this Rajasthani city's abundant flowers, trees, vast artificial lakes, and lawns, in Jodhpur, you sense that only a step away is a desert landscape, almost as barren as the moon. This makes the medieval fort seem more magical-a larger-than-life version of an idealized illustration in a child's book. And talk about pink horseshoe-shaped Jodhpur blushes like a bride as it nestles into the ridge of rosy sandstone hills whose quarries gave birth to the stones for the major structures.
Less majestic buildings in white or yellow are dazzling against a flawless blue sky. Jodhpur (pop. 495,000) once the state of Marwar, meaning land of death, was founded in 1211. The city was built by Rao Jodha in 1459. His descendants, some among the residents today, ruled these parts for half a millennium until Indian Independence in 1947. The city's walls are almost six miles in circumference. Through its seven huge gates each commemorating a victory-passed some of Raja- that's most valiant warriors. As with all Rajputs, they claimed that their history of heroic deeds went back as far as the epic poems, the Ramayana, and Mahabharata, and they upheld their heritage with honor. Jodhpur is visited by Mandore, a few miles away, the earlier capital of Marwar.
4. Jaisalmer
In every adventurous traveler's imagination is a city like Jaisalmer's rarely visited golden city rising from the wilderness waiting to be discovered. Relatively difficult to reach, but well worth the effort, Jaisalmer (poD. 238,000), founded in 1156 by Rawal Jaisal, lies at the western end of
Rajasthan, in the heart of the Great Indian Desert. When camel caravans carried precious cargo to central Asia, Jaisalmer was in its glory days as a trading center and stop en route to Delhi. Traces of this former opulence are seen in lace-like buildings of luminous sandstone. New construction today must also be ochre-toned to blend with the old. Against this theatrical background are handsome Rajasthanis in bright turbans and vivid skirts and blouses. As Bombay rose in importance as a seaport, Jaisalmer began to lose its luster. After the 1947 partition, the trade routes to Pakistan were closed and Jaisalmer went further into decline.
During the 1965 and 1971 wars with Pakistan, Jaisalmer, with its strategic border position, was reborn as an important military base. Today the army is Jaisalmer's main industry. While a good paved road makes it a six-hour run from Jodhpur to Jaisalmer, there are no flights, which deters many travelers, and also there are no big hotels to hold tour groups. In Jaisalmer, they wish there were jet fights so tourism would further shore up the economy. But for now, at least it's possible to be among the few visitors wandering in the magic streets of this golden and glowing city rising in the desert wilderness.
Rajasthan Holiday Packages
We Offer the Best Deals On Rajasthan tour packages all inclusive, Rajasthan tour packages under 10,000, Rajasthan tour packages for family, Rajasthan tour packages under 5000, Rajasthan tour packages for couples, Rajasthan tour packages prices, Rajasthan tour packages from Jaipur, Rajasthan tour packages from Ahmedabad, top 10 tourist places in Rajasthan, top 5 tourist places in Rajasthan, top places to visit in Rajasthan. We Offer Great Deals On Kashmir Packages and Leh Ladakh Holiday Trips, Luxury Tour Packages for Kashmir, and Kashmir Budget Tour packages.
Read More

Places to Visit on Rajasthan Trip:



1. Amber Fort (Amer) and Palace: The Amber Fort, also known as Amer Fort, is well known for its rich artwork and Hindu iconography sculptures. The Fort is built with red sandstone and marble and is known for its unique, natural air-cooling system.Rajasthan Tourist Places

2. Hawa Mahal: The Hawa Mahal is known for its most extraordinary honey-combed structure that stands tall in its reddish hues. It is an important landmark when you are embarking on Rajasthan tour packages.

3. Jal Mahal: The Jal Mahal meaning the "Water Palace" is one of the most spectacular architectural wonders, built in the middle of the Man Sagar Lake. It is one of the most peaceful places to visit when you are in Rajasthan and an excellent example of Rajput royalty.

4. Jantar Mantar: The Jantar Mantar Observatory has been considered as a significant astronomical structure built by Maharaja Sawai Jai Singh II in the 18th century. It is an important stop on your Rajasthan tour packages for its historical significance as well as its architectural beauty.

5. Jaisalmer Fort: The Jaisalmer Fort is a stunning yellow sandstone structure that emits a golden hue under the strong desert light, which creates a magical effect for onlookers. It is one of the largest forts in the world and includes a Jain Temple and Laxminath Temple that have been constructed on the premises.

6. Pushkar Lake: The stunning Pushkar Lake is definitely a highlight when you are signing up for the Rajasthan tour packages. For Hindus, it is one of the holy pilgrimage sites, and it is claimed that the lake's waters have healing powers, attracting thousands of tourists each year.

7. Mehrangarh Fort, Jodhpur: One of the most important attractions in all Rajasthan tour packages, Mehrangarh Fort is an enormous fort built by Maharaja Jai Singh II. This fort was the center of local administration and defense during the 18th century.

8. Kumbhalgarh Fort, Udaipur: Situated on the banks of lake Pichola, Kumbhalgarh is one of the best-known forts to be included in all Rajasthan tour packages. The old building has witnessed many significant events in Indian history.

9. Ranthambore National Park, Sawai Madhopur: Ranthambore National Park is a wildlife sanctuary found in Sawai Madhopur district of Rajasthan in India. Raptors such as Bengal tigers, Indian cheetahs, and red-headed vultures can all be seen here. The park also provides habitat for around 1,000 species of birds.

10. Chittorgarh Fort, Chittorgarh: Chittorgarh Fort was built in 1278 AD by the Sisodia rulers of Mewar. Built on top of a 116 feet hill, Chittor fort has four distinct terraces which have ramparts and watch towers. Built in a magnificent architectural style, Chittorgarh Fort is always found in the Rajasthan tour packages of architecture buffs.

11. Lake Pichola, Udaipur: Nestled on the edge of the blue-hued mountains and dotted with purple wildflowers, Pichola Lake is well-known for its enchantment. The water here is calm and peaceful as it reflects the mountain scenery all around. Boating in Lake Pichola is definitely one of the most romantic activities to include in your Rajasthan tour packages.

12. Patwon-ki-Haveli, Jaisalmer: Located in Jaisalmer, Patwon ki Haveli is one of the most beautiful places to include in your Rajasthan tour packages. It was built by Maharawal Maan Singh to serve as his summer residence, and today it stands as one of the world's finest examples of traditional Indian architecture.

13. Junagarh Fort, Bikaner: One of the most scenic places to add in your Rajasthan tour packages is the Junagarh Fort. It is located on top of a hill which commands a view of the city below, most notably from its highest point, Lal Chowk. The fort was constructed in 1465 by Rao Jodha, founder of Jodhpur's Rathore dynasty.

14. Nahargarh Fort, Jaipur: Nahargarh Fort is one of the most beautiful forts in Jaipur to add in your Rajasthan tour packages to visit. Built by Maharaja Jai Singh II, the fort stands tall on a hill that has three building blocks on top of each other, giving it an architectural beauty and uniqueness.

Things to Do on a Rajasthan Tour:

1. Desert Camping in Jaisalmer: Experience the bliss of camping right in the middle of a cold desert and spend a night marveling at the scenic night sky. When booking a Rajasthan tour package, make sure to camp in Jaisalmer, the home of the Thar Desert. Because Rajasthan is home to the royals, even camping will be a luxurious experience.

From private air conditioned Swiss camps to room service and multi cuisine restaurant facilities, everything will be offered. You will also be treated to regional dance performances and local foods in order to highlight Rajasthan's culture.

2. Desert Safari in Jaisalmer: Get ready to explore almost every nook and corner of Thar Desert's sand dunes as you opt for a session of Desert Safari in Jaisalmer. On your Rajasthan tour packages, ride a 4×4 and enjoy the thrill of navigating rough roads while sinking in the sand.

The safari will take you to some of the most gorgeous locations, but if you go in the evening, you'll be treated to some of the most spectacular sunset views. Safaris may be easily found and booked at a number of desert sites, and the thrill and adrenaline rush that this activity provides is well worth the time and money.

3. Food tour in Jodhpur: Jodhpur is one of those cities of Rajasthan which are famed for the variety of street food they have. From mirchi bada to kadi kachori and from gulab jamun ki sabji to makhaniya lassi, this city is home to some of the most delicious snacks which can be enjoyed by availing Rajasthan packages. For the best local food experiences, you can visit the old city area or the famous Shastri Circle, where finding restaurants and food trucks is really easy.

4. Camel Safari in Jaisalmer: Camel Safari in Jaisalmer is one of the most famous activities available in this sandy land. People from far away corners visit Jaisalmer to explore its golden sands while riding the ship of the desert – the camel.

The experience in itself is really rustic as you get to travel from one place to another on the back of a camel on your Rajasthan packages. The whole journey is really fascinating and thrilling at the same time. From that huge height, you are surely going to enjoy pretty views of the sunsets.

5. Shopping in Jaipur: If the local Rajasthan clothing and jewelry fascinates you then make sure that you take at least one day out of your Rajasthan holiday packages for shopping in Jaipur. While a great bargaining power in this market will land you a superb deal, the prices themselves are really less as compared to big malls.

Places like Bapu Bazar, GT Mall, Johari Bazaar and many others are famous here for offering a wide variety of shops to enjoy a shopping spree. From wall hangings to famous blue pottery and from Rajasthani rugs to Jaipur razai, every item is available in these markets.

6. Hot Air Ballooning in Jaipur: Conquer the skies as you opt for a session of hot air ballooning in Jaipur. Hop on a safe and sound basket and reach the heights from where you can admire the serenity and beauty of this beautiful city. This activity will give you a chance to enjoy some of the most beautiful panoramic views of the Pink City.

Including this activity in your Rajasthan Tour Packages will add the much required thrill and private time with your loved ones. The session is done in the Aravali Hills, hence the view is truly worth a picture.

7. Wildlife Safari in Ranthambore National Park: The Ranthambore National Park is for those who are interested in nature and wildlife, as it is home to countless varieties of plants, animals, and birds. People can enjoy the wonderful views of nature while also spotting creatures such as deers, Bengal tigers, black buck, spotted deers, Indian wolf, and others on safaris in compact 4*4 jeeps and passenger buses with open tops. Including this activity in your Rajasthan tour packages will let you explore various beautiful corners of the Ranthambore National Park.

8. Spot Wildlife at Sariska National Park Alwar: While many may consider the State of Rajasthan a barren land with just the sand dunes, this place is actually way more prosperous than that. Rajasthan is home to numerous green and thriving national parks like the Sariska National park which lets you catch a glimpse of various wild animals resting in their natural habitat. From birdwatching tours to spot colorful birds to safari sessions, you can avail various wildlife spotting tours in Sariska National Park with your Rajasthan packages.

9. Visit the Bhangarh Fort: One of the scariest and most haunted places to visit in India, the Bhangarh Fort is known for creeping out people. Listed as a UNESCO World Heritage Site, the fort of Bhangarh was once a prestigious home to the royals but came under the curse of some evil person. It is believed that the fort, in addition to its surrounding city, disappeared in a single night, leaving behind just the broken houses and pathways.

Since many people consider that they still hear laughing and crying sounds of people, the place has become a haunted destination. Including a tour of this place in your Rajasthan Packages is truly worth it.

10. Ziplining in Mehrangarh Fort Jodhpur: Swoosh along a 396 feet long and 150 feet high ziplining track and experience the thrill of flying like a fox. The best part about this activity is that people get to enjoy some of the best views of the Mehrangarh Fort, a UNESCO World Heritage Site. If you are looking to add some fun activities to your Rajasthan holiday packages then a ziplining session is a must try. Best Time for Rajasthan Trip:

The best time to visit Rajasthan is between the months of October to February, when the weather is cool and pleasant. In winters, the temperature drops down to 20 degrees celsius with a considerable rainfall. This is the perfect time to enjoy outdoor activities and go sightseeing, exploring the forts, palaces, and temples of the state.

Another ideal time for visiting Rajasthan is from July to September, when the arid and dry state gets some rainfall during this time. However, the temperatures and humidity are considerably high during this time. Rajasthan also receives high temperatures during the summer season, between the months of March and June.

Ideal Duration for Rajasthan Tour: The ideal duration for a trip to Rajasthan is 14 days. There are a number of reasons for this, one of them being that it would give you enough time to explore the desert and have a taste of its rich culture.

Rajasthan is not only a province with stunning palaces and mud houses but also an archeologist's delight. You will be able to visit some really old places like Pushkar Lake, the Ranthambore Fort, and many more. Additionally, you would be able to visit the famous Jaisalmer Fort and the desert oases of Bikaner and Jaipur. If you are looking to enjoy the traditional Rajasthani food then a 10-day trip is good enough for that purpose.

How to Reach Rajasthan?

By Air: If you are an international traveler, you can easily land at Jaipur International Airport. Rajasthan has a total of six functional airports in cities like Jodhpur, Udaipur, Jaisalmer, Bikaner, Jaipur and Kota Airport which altogether experience a heavy tourist inflow. These airports carry aircrafts to and from various national and International destinations including Delhi, Kolkata, Chandigarh, Muscat, Singapore, Kuala Lumpur, Dubai and many others. Air travel is surely the best and fastest way to reach Rajasthan.

By Rail: Rails or trains are the second most comfortable means of transport to reach a specific destination and when considering Rajasthan, one can easily find numerous trains running to and from its cities. Each city of Rajasthan has different train stations which connect people to the outer world through trains. Cities like Jaipur, Udaipur, Jodhpur and Bikaner receive daily express trains from different parts of the country, hence making this mode of travel very budget friendly, convenient and fast.

By Road: A road trip can be done in several ways, starting from taking a personal vehicle and opting for a bus service. Rajasthan is well connected to other states through a large combination of highways and local roads. The major connection is through National Highway 8, which connects destinations like Jaipur, Udaipur and Jodhpur with cities like Delhi, Ahmedabad, Vadodara and Mumbai. You can also choose to rent out a cab or taxi service, using which you can easily reach your desired destination on time.

Browse a variety of Rajasthan trip packages from several Indian cities, including: Rajasthan Tour Package From Bangalore, Rajasthan Tour Package From Delhi, Rajasthan Tour Package From Mumbai, Rajasthan Tour Package From Kolkata, Rajasthan Tour Package From Hyderabad, Rajasthan Tour Package From Ahmedabad, Rajasthan Tour Package From Chandigarh, Rajasthan Tour Package From Jaipur, Rajasthan tour itinerary



| Rajasthan Tour Packages | Duration | Price |
| --- | --- | --- |
| Amazing Jaisalmer Sightseeing Trip | 3 Days / 2 Nights | ₹ 33500.0.0 |
| Jaipur Jodhpur Jaisalmer | Bestseller Rajasthan Tour Packages | 6 Days / 5 Nights | ₹ 97500.0 |
| Pinkcity Jaipur To Pushkar Tour | 4 Days / 3 Nights | ₹ 53455.0 |
| Incredible Jaipur Udaipur Jodhpur Jaisalmer | Fall in Love with Rajasthan | 8 Days / 7 Nights | ₹ 72550.0 |
| Memorable Jodhpur Jaisalmer | 4 Days in Desert Cities of Rajasthan | 4 Days / 3 Nights | ₹ 48099.0 |
Review Us
⭐⭐⭐⭐⭐10/10 Based On 12K Reviews
Share It
Table of Contents